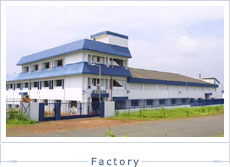 Overview
Starflex Sealing India Pvt. Ltd., earlier known as Flexitallic India Pvt. Ltd. began production in 1998 as a joint venture subsidiary of Flexitallic. Starflex is now independently managed from Flexitallic. A world-class manufacturing and technical infrastructure support the company's wide product range. Starflex products are supplied to various places including Europe and Asia.
---

Products

Starflex manufactures a wide range of products including the following:
Spiral Wound Gaskets
Sheet based and cut gaskets
Tooth Profile Gaskets
Jacketed Gaskets
Envelope Gaskets
Gland Packings

---

Technical Support
Our technical support includes in plant surveys, gasket designs, recommendations, and technical seminars in order to help customers reduce leakages and enhance sealing performance. Please refer to our technical section for more information.

---

Manufacturing infrastructure
Starflex products are manufactured from a world class 55,000 square feet facility based in Goa, India. The manufacturing processes are atomised to allow for best controls in quality and adherence to the required standards.

---

Markets served
Starflex products are supplied to a wide range of industries. We constantly interact with customers from various industries. Following are a few of our customer industries.
Nuclear
Petrochemical
Chemical
Power
Pulp and Paper
Original Equipment Manufacturers
Pharmaceutical
Food Processing
---

Approvals
Below are a few prestigious approvals:
Airforce
Department of Atomic Energy
Engineers India Limited
Jacobs (Humphreys & Glasgow)
Kvaerner
Nuclear Power Corporation of India
Uhde
---

Customers
Below are a few prestigious customers:
Bhabha Atomic Research Centre
Birla Cellulosic
British Gas
Gas Authority of India
GMM Pfaudler
Godrej
Hindustan Lever
Hindustan Petroleum
Indian farmers fertiliser Corporation
Indian Petrochemical Corporation Ltd.
Indira Gandhi Centre for Atomic Research
Kribcho
L&T
Mitsubishi PTA
National Thermal Power Corporation
Nuclear Power Corporation of India
Oil & Natural Gas Corporation
Reliance Industries
Rohm & Haas
Tata Chemicals